The West Australian
By Stephen Scourfield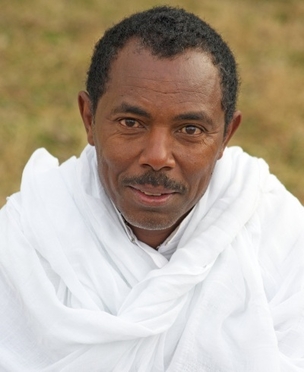 Ethiopian tour guide Firew Ayele
When Ethiopian Firew Ayele was nine years old, he was captured by soldiers from neighbouring Somalia, and spent more than 10 years as a prisoner.
Today, he is 43 years old and one of the most respected tourist guides in Ethiopia. The company he owns and runs with wife Senait employs up to 50 people and he leads groups from all over the world, explaining Ethiopia's extraordinary history and introducing them to its vibrant culture.
He's a geographer, a historian, and a great and knowledgeable story teller.
A measure of his professionalism is that he looks after, researches for and guides perhaps 90 per cent of the film crews which visit Ethiopia, including the BBC, Al Jazeera and documentary makers.
And another is that he is here, today, with me alongside Tony Evans, leading a Travel Directors group on their African Dawn tour, which starts in Uganda and Rwanda but spends the majority of its time in Ethiopia. Firew and Tony have known each other about 10 years.
But if it might look that tourism has been the making of him, when he tells his story, his childhood as a prisoner of Somalis has played no small part in it.
"It was July 1977 – school holidays." Firew begins his story, in his own words. "I was only nine years old and living with my uncle. My mother and father had divorced when I was five and he became responsible for keeping me and to get me to school.
"There had been a rumour that the Somali Liberation Front was planning to overtake the Ethiopian government – there was a lot of war before in many times between these two countries and this was a good time to invade as the government of Emperor Haile Selassie had gone and they were trying to make the country socialist.
"It was transitional, there was a student movement and conflict with Eritrea, which wanted independence. The Somali army rushed into Ethiopia and captured about 600km.
"I was in Gode, near the Somali border."
His uncle was a high-ranking official and they were living in a small palace compound, with military guards.
At 4am, Firew heard gunfire. "We were hearing a lot of noise of bullets. We were told to sleep in the ground house but there were a lot of bullets and it was very frightening.
"Then some people came and told us to run out of the palace. When we came out there were a lot of bullets making noise overhead. Wee-oo. Weee-ooo. Kalishnikovs." AK-47 assault rifles from the Soviet Union. And artillery dropping shells, too. "We started running – it was a few kilometres towards the military campus.
"There is a big, flat land between the town and military camp. Artillery was landing . . . whoosh . . . arms and legs were coming down."
Everyone was running straight to the garrison but Firew, persuading two other boys, cut out to the left, and eventually they hid for six hours behind a termite mound. "This was good defence."
As they set off again, through a forest, there was suddenly shooting over the three little boys. They lay down. "So many bullets the leaves were falling on us."
Firew was hit by a bullet, and shows me the scar by his right eyebrow.
Then soldiers told them to stand up – what he describes as "filthy and hard-looking persons".
But it was the bravery of one of these soldiers that saved them. He told his compatriots: "If you kill them I will kill you – they are kids, not soldiers." He gave the boys water, dry biscuit and dates.They were walked to a place where many prisoners were sitting. Firew says an officer turned up in a four-wheel-drive and announced: "We are soldiers from the Somali government. The plan of the Somali government is to take out land from Kenya, Djibouti and Ethiopia. You are captured because we have found you on our land."
Others might have seen it as terrorists taking prisoners and hostages.
And then these 150 people, including pregnant women, babies and little children, started walking, with 20 soldiers behind, 20 in front, passing their own broken homes, and across the bridge leading in to town that was so covered in the bodies of the defending soldiers who had died there that they had to walk over them – "taking care not to stand on the stomach or intestines," Firew says.
In the afternoon, Ethiopian jets came over and fired on them, killing both soldiers and Ethiopians, and the general in charge was hit in the heart. As he was dying and asking for help, Firew says, his own soldiers were checking his pockets for cigarettes. "This shocked us – if they would treat their own general like this, how would they treat us?"
In the evening they were loaded into military trucks and taken to a forest camp, where they were held for three days, the women victims of and at risk of rape until a man defended his wife by hitting back, taking a gun and killing seven soldiers. "They were then beating us all – 300 soldiers on what were now 60 of us."
But then another commander came and told the soldiers not to touch the women. A second act of humanity in the face of war.
Firew recalls they were forced to walk 60km across the desert to Barad in Somalia until another senior soldier questioned what was going on – "this is not what the Prophet Mohammed teaches". They were then loaded onto trucks, on top of artillery.
But they were again attacked by Ethiopian planes, which bombed them, setting off ordnance which exploded and burnt for an hour.
One truck was left, and the 60 people were piled on top and taken to Mogadishu, passing through towns where people threw stones at them.
Suddenly they were with more than 8000 other captured people. "We spent three months in the central jail there. It was full of people. Your space was the size of your shoulders. You couldn't walk more than 3m. There was limited toilet. It was very hot. Sometimes there was water only once a day. There was sickness and people started dying. For three months, I just sat all day."
During that time the Somalis had been sorting civilians from military. The former were taken to a prison camp on the coast and set to work cutting rock.
"The first six months were really a terrible time because I didn't understand what is going on and I didn't know anybody there.
"Many people lost their minds.
"It was very hot and sanitation was a big problem. When we weren't working we were locked in 24 hours a day in one room. Once a week we were taken to 'shower' in the ocean – but salt water. There was malaria and lice. All the kids under five years old died in less than one year – four or five a day."
And after that year, Firew was driven 14 hours in a truck in the rain to labour on a prison farm. "At first we were kept in a big open compound." It took six months to clear the forest enough to build their own housing before continuing to clear for farmland.
"We worked very hard but now we were not locked in a house. There were 10 soldiers to 100 prisoners as we planted orange, mango, corn and rice. I stood in water up to my chest for 13 or 14 hours a day to keep birds off the rice. There were a lot of mosquitoes."
But there was also a great mix of educated Ethiopians at the camp – teachers who had been highly educated in the UK and US, agriculturalists, doctors and nurses.
Dr Tibebu Haile Selassie was highly skilled, treated Somali officers and their families, won their trust and won permission to start teaching. The highly qualified prisoners developed a curriculum, and opened a school, sometimes writing on cement bags cut to make sheets.
"But most of the teachers were high level," says Firew, who sees now the great opportunity that had been presented to him – tutors the like of this would not normally be teaching a 10-year-old boy. They taught at universities; they had doctorates. "I finished
my high school there in prison,"
as people around him died of cholera, malaria, bilharzia and suicide.
"I learnt a lot in prison. I had a lot of time with extraordinary people – teachers, agronomists. From this it is very easy to plan your life. What is good for me is that I am not afraid of any problem. I always say there's nothing worse comes than what happened in prison.
"I am not afraid of anything because I faced this in my childhood."
When, after more than 10 years of imprisonment, the Ethiopian and Somali governments agreed to a prisoner-of-war exchange, he returned home, 20 years old with a high level of education which was accepted by the authorities in Ethiopia, and he was given a place at university in Addis Abba, where he studied geography. He then worked for the Ministry of Agriculture for eight years in the Ethiopian town of Bahir Dar.
"Travelling in the northern part of Ethiopia gave me a clue about tourism."
He was also asked to show some visitors around this part of Ethiopia – north from the city of Addis Ababa, which is such a hub of Africa, to Lalibela, with its 13th century churches hewn into rock, the town of Bahir Dar and the valley of the Blue Nile, and the old city of Axum.
He enjoyed it and earned good money. "So I resigned, studied tourism, worked for three years as a guide for an Italian-owned tour company, spent three years as a freelance guide and 10 years ago started my own company."
With Senait on top of finances and the office ("she also knows how to cool me," he says), Firew has time to do the fieldwork, and personally guides most of his tours. Daughter Eva, who is nine, even brings her skills to the business. Firew says that she will carefully check gear and provisions lists for camping trips and make sure everything is there.
In guiding this section of Travel Directors' Africa Dawn tour, alongside tour leader Tony, he tells the stories of what might be called the world's original country – from the remains of humans' oldest primate relatives to its old Christian beliefs and still vibrant celebrations, from its world heritage sites to its lively, dusty markets, its remote villages and, in very clever, simple narratives, through the stories of it all.
He's terrific, and now one of my handful of "best guides in the world".
And the fact that Tony trusts him carries a lot of weight, too. Apart from his work for Travel Directors, Firew leads groups mostly from the UK, US, Germany, Russia and Israel.
And, in fact, he has quite a reputation with the Israelis, from the time he was leading a group of generals and pilots who had their own ideas about where they should go and what they should do.
"I know this place best," he told them. "I am the only general here. I am trying to be a good general – try to be good soldiers."
They dropped into line, let Firew lead, had a wonderful trip and have not only returned since, but helped to spread Firew's fame.
He flicks down the emails in his iPad to show me one from the leading Israeli general on that trek. It reads: "You are the emperor of Ethiopia's tourism" and praises both the beauty of Ethiopia and Firew for his "efficiency and beloved character".
Effort and honesty have made a successful business in Across Abyssinia.
Firew says: "After I started business, I am getting a lot of money but money is more precious if you are using it for the right purpose. I don't feel good if I am keeping a lot of money in my hand or my account.
"Me and my wife started supporting poor people around us and this makes me very happy.
"I am supporting 35 kids to study in school. Every month I give them money for their food, their school and their clothing.
"One woman had a kidney problem and she doesn't have 10 per cent of what she needs for medication and I have more than that in my hand – I paid for her. She is well and I am happy.
"It's better to use money you have for possible good things. If you keep money, it rusts like metal.
"It's not money that makes you rich – it's how you think."
I have just spent more than two weeks with Firew and I have admired his professionalism and kindness, his humour and his strength. I'd be privileged to call him a friend. He is an inspiration, and he has shared the intimate story of his life.
fact file *
·Firew Ayele's company, Across Abyssinia, has packages and group tours but also caters for individuals, couples and small groups. They can follow Across Abyssinia's itineraries, or amend them. But in looking at the website, consider the Northern Historic Route (14 days on road, or eight days flying). Visit adventureabyssinia.com, email info@adventureabyssinia.com or phone
+251 911440145.
·Days in Ethiopia are part of Travel Directors' African Dawn tour – a 28-day journey through Uganda, Rwanda and Ethiopia from January 4-31, 2015. It's a mix of diverse experiences and sights, from Lake Victoria and the source of the Nile in Uganda, to the rare mountain gorillas of Rwanda and on to Ethiopia – the cradle of civilisation. It is $18,880 per person, twin share, and single supplement is $3250 per person. The cost includes economy-class international airfares, all internal flights in Africa, accommodation, meals, Travel Directors tour leader and local guides, entrance fees, the US$750 permit to visit mountain gorillas in Rwanda, visas. 9242 4200 and traveldirectors.com.au.
·Qatar Airways flies daily direct between Perth and Doha and connect to Africa, among its 130 global destinations. qatarairways.com/au and 1300 340 600.
Related Posts