By lora kathleen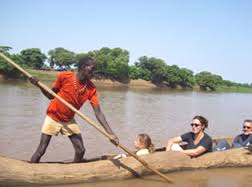 It's summertime across most of the world and that means an influx of tourists. Don't get me wrong, I love tourism. I think tourism is really great. However, I can't help but notice the groups of missions trips and travellers who don't do any research beforehand, and as such, can be picked out a mile away. How can you travel in Ethiopia and not immediately be seen as a tourist? I'm glad you asked.
1. Don't wear shorts
I don't care how hot it is. I don't care if you're going out on a boat or hiking. Ladies, DO NOT WEAR SHORTS. If you can find me a woman in rural Ethiopia who wears shorts, then sure, you can wear them too. But after living in this country for almost two years, I can tell you that shorts are not appropriate for women outside of a club in Addis. Wear trousers or knee-length skirts instead.
Men, this nominally applies to you too. In Ethiopia male farmers wear short shorts in the Gojjam/Wollo style, but it's rare you'll find a man in cities, and especially the workplace, wearing anything but trousers.
Bottom line: Wear what the locals wear.
2. Don't give money or presents to children
Most people mean well by giving things to kids on the street, but that really just makes it more difficult for all the ex-pats who have to live here longer than a week. In some of the more touristy cities, kids have learned tricks to get things from tourists. One PCV did an informal survey of the "street kids" in his super touristy town and found that over 75% are sponsored by a foreigner and receive more money every month from abroad than the normal Ethiopian salary. Keep in mind these are kids with both sets of parents who have good jobs.
If you really want to help the kids who need help, find an organization that is already responsibly working with street kids, orphans or vulnerable children. Giving things to random children on the street is doing more harm than good.
3. Don't throw toilet paper in the toilet
This is the developing world, there is limited or no infrastructure for the collection and disposal of human waste. No matter how "nice" a hotel or restaurant looks, if there is a trash can next to the toilet, the toilet paper goes in there. Throwing it in the toilet risks clogs, overflows and lots of other gross things. It might be weird at first, but it saves the next person a lot of heartache.
Of course, this list isn't comprehensive. However these three things will make a huge difference in helping you avoid being immediately labelled as a tourist in Ethiopia!
Source : http://lorakathleen.com/how-not-to-be-a-tourist-in-ethiopia/?utm_source=rss&utm_medium=rss&utm_campaign=how-not-to-be-a-tourist-in-ethiopia
Related Posts