Prweb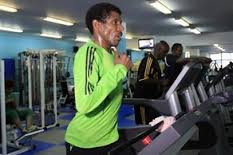 ElliptiGO Inc., creators of the world's first elliptical cycle, today announced a partnership with elite Ethiopian training camp, Yaya Village. Established by Joseph Kibur in 2009 and co-owned with double Olympic gold medalist, Haile Gebrselassie, Yaya Village is a 4-star training resort near Addis Ababa, Ethiopia providing everything an athlete might require for training. Year-round cross-training is one of the training "secrets" that helps East Africans continue their dominance of the sport of distance running. Now both local and visiting athletes training at Yaya Village have this innovative cross-training device at their disposal.
"We are thrilled to partner with ElliptiGO to bring this cross-training tool to both our local athletes and those that visit us from all over the world," said Kibur. "Athletes from Yaya village turn in world-class performances because of the opportunity to train here with innovations like the ElliptiGO. We know that it will prove a valuable option to all athletes who come through our facility."
Kibur and Gebrselassie first tested the ElliptiGO out with their athletes before deciding to bring several in permanently. "Not only were we able to help athletes maintain fitness during times of injury, but with proactive integration of the ElliptiGO into training, we managed to keep athletes healthy while still increasing overall workload," stated Kibur. "Our athletes enjoy using the ElliptiGO and it is being utilized by everyone from Olympic champions to developmental athletes to retired athletes like me!"
Both local and international runners visit Yaya throughout the year where they have the opportunity to train with internationally-recognized coaches and enjoy amenities like the gymnasium, restaurant, physiotherapy, massage, beach volleyball court, horse riding, and running track. One of the major draws is being able to interact with famous runners like Gebrselassie, best known for his Olympic gold medals in the 10,000 meters at the 1996 and 2000 Olympics and for setting 27 world records so far in his career.
"I truly believe the ElliptiGO is the ultimate cross-training tool for runners because the running-like movement allows both injured and healthy athletes to add training without risking injury," stated Gebrselassie. "It has enabled me to increase my workload without doing additional damage to my body through high-mileage pounding. Moving forward, the ElliptiGO is going to help me and the other athletes at Yaya Village stay healthy and reach new levels of performance."
Read More at – http://www.prweb.com/releases/2014_ElliptiGO/07-Yaya-Village-Haile/prweb12034608.htm
Related Posts