ScreenDaily
BY MELANIE GOODFELLOW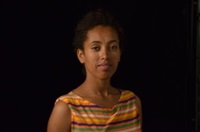 Ethiopian-born, Israeli filmmaker Alamork Marsha's Fig Tree, based on her experiences as a child in war-torn Addis Ababa in 1991, has won the $50,000 top prize at the pitching event of Sam Spiegel school's Jerusalem International Film Lab.
It was an apt choice as fighting escalated between Israel and Palestinian militants in the Gaza Strip, some 70 kilometres down the road, where more than 160 inhabitants have died in Israeli air strikes over the past six days, launched in response to a barrage of rocket attacks on Israel. (In fact air sirens were heard in Jerusalem just 15 minutes before the awards were announced.)
In her pitch, Marsha revealed how Fig Tree was inspired by her childhood, living with her grandmother on the outskirts of the Ethiopian capital of Addis Ababa during the civil war and her Jewish family's decision to move to Israel. She said one of her aims was to capture the surreal nature of life amid war.
"Our house was located in a community of different tribes and religions and this special mixture made my childhood very happy," said Marsha.
'Through this film I want to go back to my grandmother's house in Ethiopia to describe life in the war and express the dissonance between two conditions, the war that brings death with it and the human lust for life."
"One of my clearest memories is that I am playing chase with my friends and the next minute I am trying to avoid the soldiers' crazy looks as they are dragging boys into trucks in order to send them to fight in the frontline. This surreal moment keeps repeating itself. I am playing and the war around me is kicking."
Saar Yogev and Naomi Levari of Black Sheep Productions are producing the film which they plan to shoot in Ethiopia.
Related Posts