Al Jazeera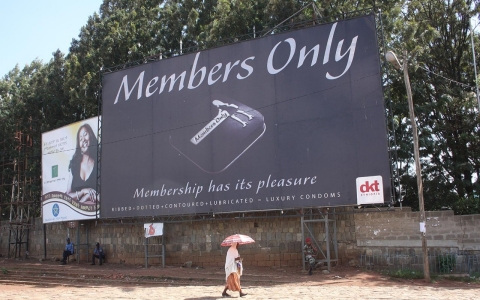 Low-cost contraceptives supplied by U.S. groups highlight policy debate about giveaway aid culture in African countries
by James Jeffrey
An increasingly common billboard advertising Members Only condoms hovers over a street in the center of Addis Ababa.James Jeffrey
ADDIS ABABA, Ethiopia — Inside his room at the Addis Ababa University campus, 23-year-old Bereket reached into a cupboard and pulled out a pack of Sensation Honey condoms. He had used them with the last three women he had intercourse with. 
Bereket, who did not want to use his last name because of cultural sensitivities about sex, said he prefers this brand because it's "modern," adding that he avoids the free condoms that are widely available in Ethiopia because he cannot be sure of their quality.
Sensation Honey is made by DKT Ethiopia — part of the U.S. nonprofit group DKT International — which since 1989 has sold Ethiopia's most popular brands. DKT's condoms are usually sold well below market cost, heavily subsidized. A pack of three Sensation condoms sells for just 2 birr (10 cents), as part of the effort to tackle problems like HIV and improve family planning for the country with Africa's second-largest population.
But recently, DKT launched a new brand, Members Only, which is not subsidized at all and is notably aimed upmarket. A pack costs 20 birr ($1.02) and is sold in a sleek-looking black metal container. The advertising billboards in Addis Ababa stress, "Membership has its pleasure."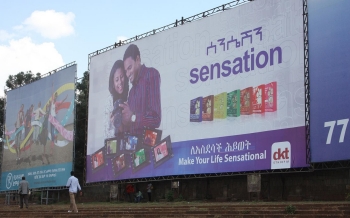 A billboard advertising Sensation condoms stands out in Meskal Square.James Jeffrey
On the face of it, hiking up the price of a commodity seen as a vital tool in fighting a global epidemic seems like a dud move. But, in fact, it plays into the heart of a new debate about how to fight HIV in Africa, and how to best encourage condom use on the continent. It also mirrors a wider discussion in development circles — whether putting a price on things, rather than giving supplies away, increases their eventual use by intended consumers.
The Members Only condom was released in an attempt to get a clearer picture of what consumers might be willing to pay, as DKT attempts to move from a subsidized model to a self-sustainable one. This effort, however, is being undercut by the relentless supply of free condoms pouring into the country from the U.S. Agency for International Development (USAID) and the U.S. President's Emergency Plan for AIDS Relief (PEPFAR).
That has left aid workers with a puzzling dilemma: to price condoms just like any other product, or to treat them as potential lifesavers that should be available free to anyone, anywhere, anytime.
It's a dilemma for DKT, which currently has about 40 million condoms stacked in its main Addis Ababa warehouse, from which it annually distributes more than 60 million. Meanwhile, USAID plans to procure up to 35 million free condoms for Ethiopia in 2015. But it is also looking at other approaches to promote proper condom use among consumer groups with divergent health beliefs, behaviors and incomes. It turns out promoting condom use in a developing country can be bewilderingly complex.
USAID says targeted distribution of free condoms, combined with health promotions, can actually create some demand to purchase condoms for cash. "We support market segmentation, but there is a limit to what we can expect people to pay for, given the financial situation," said Keith Hummel, commodities and logistics adviser for USAID in Ethiopia. He noted that 29 percent of Ethiopians still live in absolute poverty, subsisting on less than $2 a day. 
"We support market segmentation, but there is a limit to what we can expect people to pay for, given the financial situation."
Keith Hummel
USAID in Ethiopia
But as a result of free condoms, DKT has seen its market share slide from about 70 percent in 2009 to 30 percent currently. The goal of creating a sustainable business, and a sustainable condom supply, is harder than previously realized.
But what no one doubts is the impact of condoms. Their use, whether free or not, seems to have worked in helping stem the spread of HIV; the infection rate in Ethiopia is relatively low, at about 1.3 percent. Yet disease prevention is not the only benefit.
"Young women are more scared about pregnancy," says 26-year-old Negede, a graduate student at Addis Ababa University, who also declined to use her full name. "If you get pregnant outside of marriage, your parents may turn you away. Catching a disease is less of a worry than that."
According to Negede, people have become much more aware of condoms during the past five years. She remembers visiting the university clinic and seeing four male students turn up and start collecting handfuls of free prophylactics. "They're my regular customers," a nurse told her. But most Ethiopian women would be too ashamed to buy or collect them, Negede said. Instead, it's the men who are expected to have them at the ready.
However, it isn't always men who shoulder the responsibility for condoms, especially in Ethiopia's bustling cities.
Members Only has proved popular with sex workers, said Andrew Piller, who is in charge of DKT's condom distribution network in Ethiopia. DKT works closely with sex workers, due to their at-risk status. One of the company's condom types came into production after focus groups with sex workers. They reported relatively high use of condoms with clients, but low use with their actual boyfriends, who didn't like using them. So a brand called Sensation Rose was released to offer a more romantic condom that might appeal to reluctant boyfriends.
Some surveys have shown that Ethiopian sex workers are happy to pay for affordable, good-quality retail products, which are easily accessible at kiosks, grocery stores, pharmacies and the like, Piller said. The policy of giving them away seems debatable.
Ethiopia's condom situation appears emblematic of the wider policy debate that has dominated aid all over Africa and many other parts of the world on the relative merits of giveaway-aid culture versus capacity building.
Western governments have responded by increasingly endeavoring to tie aid to business opportunities. The U.S.-Africa Leaders Summit this August is intended to "advance the administration's focus on trade and investment in Africa," according to the White House.
In January, British International Development Secretary Justine Greening announced that the U.K. would be devoting £1.8 billion ($2.8 billion) to growth-boosting investments in 2015–16. "Economic development is, without question," Greening said, "the only way countries can leave behind enduring and chronic poverty for good." 
DKT's goal is to become a fully fledged business — profitable in its own right — and to participate in Ethiopia's economic development. The country's GDP growth has averaged around 10 percent since 2007.
DKT International is already successful with condom programs in Indonesia, the Philippines and Brazil. So far, Members Only condoms make up just 1 percent of its sales. But it's still early days, Piller said. He is hopeful that within a decade, DKT could even leave its NGO status behind. And Piller points out he doesn't want free condoms stopped. Rather, he supports better coordination between differing supply systems and the organizations behind them.
Walking around the leafy grounds of Addis Ababa University in the sunshine, it is clear — judging by some of the things discarded on the ground — that the clinic's free condoms are not wasted.
Negede has not had sex with her current boyfriend. But would she be willing to use condoms if it happened? "Of course," she said. "I don't know the differences [between the brands]," she added. "But I would ask, and then I would choose."
Related Posts