Buzz Ethiopia
Source: Wikipedia and Getty Images
1. Abebe Bikila ,አበበ ቢቂላ,Abbabaa Biqilaa 
Abebe Bikila in Rome 
This Ethiopian marathon racer is considered as the greatest marathon racer in the history of Marathon. He was born on August 7, 1932 in the village of Jato, located 25 kilometers outside the town of Mendida, Ethiopia.
He had two Olympic Gold medals in marathon. In the way of his first gold medal winning Olympic competition in 1960 in Rome with new world record and he ran barefooted. In Addis Ababa, a stadium was named after his name as a part of showing honor to this person.
He also made another world record in the way of winning his second Olympic gold medal in 1964 in Tokyo.
2.  Mamo Wolde ,(Maammo Woldee), ማሞ ዎልደ
He was an Ethiopian long distance runner who competed in track and road running events. He was also the winner of the marathon at the 1968 Summer Olympics.
Wolde was born in Diri Jille to an Oromo family In 1951, he moved to Addis Ababa and joined the Imperial Bodyguard. Wolde later served as a peacekeeper in Korea from 1953 to 1955.
3. Fatuma Roba
Born December 18, 1973 is an Ethiopian long distance runner from Addis Ababa, Ethiopia, most known for winning a gold medal in the women's marathon race at the 1996 Summer Olympics. She finished fourth at the 1999 World Championships in Athletics.
Roba also won three straight Boston Marathons from 1997–1999, earning her the nickname "Our Lady of Boston". The three-time Boston champion narrowly missed a fourth straight title in 2000, coming in third in the closest finish in race history. She also won the Rome City Marathon in 1996, the Portugal Half Marathon in 2001 and the Nagano Olympic Commemorative Marathon in 2004. She was the 10,000 meters bronze medalist at the 1993 African Championships in Athletics.
4. Haile Gebrselassie  ኃይሌ ገብረ ሥላሴ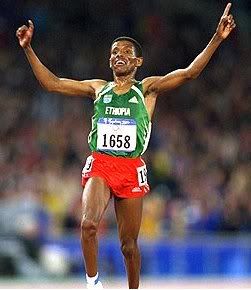 Born on 18 April 1973 is an Ethiopian long-distance track and road running athlete. Haile was born as one of ten children in Asella, Oromia Region, Ethiopia. As a child growing up on a farm he used to run ten kilometers to school every morning, and the same back every evening. This led to a distinctive running posture, with his left arm crooked as if still holding his school books.
He won two Olympic gold medals over 10,000 meters and four World Championship titles in the event. He won the Berlin Marathon four times consecutively and also had three straight wins at the Dubai Marathon. Further to this, he won four world titles indoors and was the 2001 World Half Marathon Champion.
Haile had major competition wins at distances between 1500 meters and the marathon, moving from outdoor, indoor and cross country running to road running in the latter part of his career. He broke 61 Ethiopian national records ranging from 800 meters to the marathon, set 27 world records, and is widely considered one of the greatest distance runners in history.
5. Derartu Tulu : ደራርቱ ቱሉ Daraartuu Tulluu  born March 21, 1972 in Bekoji, Arsi, Ethiopia is an Ethiopian long distance track, road and marathon athlete.
Derartu is the first black African woman to win a gold medal which she won in the 10,000m event at the 1992 Barcelona Olympic Games. The race, where her and Elana Meyer (South Africa) raced for lap after lap way ahead of the rest of the field launched her career.
6. Tirunesh Dibaba
Tirunesh Dibaba Kenene ጥሩነሽ ዲባባ ቀነኒ Xurunash Dibaabaa Qananii; born October 1, 1985 is an Ethiopian long distance track athlete and the outdoor 5000 meters world record holder. She is the current World and Olympic 10,000 meters champion. She has won in total five world track titles and five world cross country titles. She is nicknamed the "Baby Faced Destroyer.
7. Kenenisa Bekele ቀነኒሳ በቀለ Qananiisaa Baqqalaa; born 13 June 1982 is an Ethiopian long-distance runner, who holds the world record and Olympic record in both the 5000 meters and 10,000 meters events. He won a double at the 2008 Summer Olympics in these events; he also won the 2004 Olympic title over 10,000 m.
He is the most accomplished runner in IAAF World Cross Country Championships history, with six long (12 km) course and five short (4 km) course titles. He won the 10,000 m title at the World Championships in Athletics four times running from 2003 to 2009.
8. Meseret Defar Tola መሰረት ደፋር
born on 19 November 1983 in Addis Ababa is a female long-distance runner from Ethiopia who competes chiefly in the 3000 meters and 5000 meters events. She has won medals at top-tier international competitions including Olympic and World Championship gold medals over 5000 meters. She broke the world record in the event in 2006, broke it again in 2007 and held it until 2008, when fellow Ethiopian Tirunesh Dibaba beat her time.
9. Genzebe Dibaba ገንዘቤ ዲባባ  Ganzabee Dibaabaa; born 8 February 1991 is an Ethiopian middle- and long-distance runner. She is the sister of three-times Olympic champion Tirunesh Dibaba and Olympic silver medalist Ejegayehu Dibaba, and the cousin of former Olympic champion Derartu Tulu.
She was the 2012 World Indoor Champion for the 1500 m and holds the Ethiopian record for the distance with her best of 3:57.77 minutes. She represented Ethiopia at the 2012 Summer Olympics and has twice competed at the World Championships in Athletics(2009 and 2011). She was highly successful as a junior (under-20) athlete, having won two junior world cross country titles and one world junior 5000 m gold medal.
10. Gezahegne Abera : ገዛሄኘ አበራ; born April 23, 1978 is an Ethiopian athlete, winner of the marathon race at the 2000 Summer Olympics.
Born in Etya, Arsi Province, Gezahegne's first international competition was the 1999 Los Angeles Marathon, where he finished fourth, behind three Kenyans. That earned him a place in the Ethiopian 1999 World Championships team, where he finished eleventh.
Later in the 1999 season, Gezahegne won his first international marathon by finishing first at Fukuoka marathon in Japan. He won this marathon again in 2001 and 2002. In 2000, Gezahegne finished second in the Boston Marathon.
At the Sydney Olympics, the marathon race came down to two Ethiopians, Gezahegne and Tesfaye Tola, and Kenyan Erick Wainaina. At the 37 km mark, Wainaina tried to make a break, but 2 km later Gezahegne surged to the lead and held the position to the finishing lane. At 22 years old, Gezahegne was the youngest marathon champion since Juan Carlos Zabala in Los Angeles 1932.
In 2001, Gezahegne won the World Championships by a mere second ahead of Simon Biwott from Kenya to become the first person to achieve an Olympics–World Championships marathon double.
In 2003, Abera won the London Marathon in 2:07:56. At the 2003 World Championships, Gezahegne had to abandon the race due to injury, but he was selected in the Ethiopian 2004 Olympic team. Again. injury kept him from the race. His wife Elfenesh Alemu was also selected to the 2004 Olympic team, finishing fourth in the women's marathon.